Meals have become a hot issue at Families Moving Forward, a shelter for homeless families in downtown Durham that the DNC Chapter of the Links Inc. have supported since 2002. Because of social distancing and congregating restrictions due to COVID-19, residents have not been able to use the kitchens to prepare family meals since March 2020.
To help alleviate tension and relieve stress, the DNC decided to provide a soul food dinner of barbecue ribs and all the fixins' for residents to celebrate the holidays. On December 12th, a dinner for 30+ adults and 35 children were catered by Wilson's Soul Food Kitchen.
The DNC also gave Christmas gifts to families which was coordinated by Link Kimberly Moore. Link Kim M. organized members of her personal social network to donate gifts. For proof of her organizing skills see CL Eric Moore helping Link Kim display gifts at Families Moving Forward below.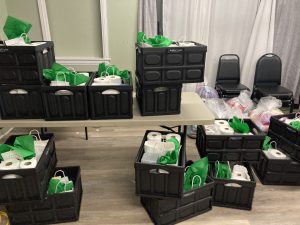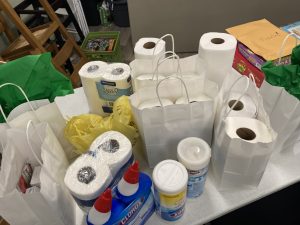 20